By bucket list, I mean... things that I want to do when I'm retired. What I have in mind would require a significant amount of time, therefore I dont think they can be achieved on a simple vacation.
1) Truffled cheese tour
LOOK AT THIS!!!! Originally, I thought this tour would only take me to Europe, chiefly France and Italy, but this delectable item is a hot dog from HOT DOUG's in Chicago!!! (Port Wine and Confit Duck Sausage with Truffle Sauce Moutarde and White Truffle Cheese) Luckily for me, I am going to Chicago a few times in the coming months, so I will have to cross this one off my list. Oh my god, it looks incredible.
2) Chile beer tour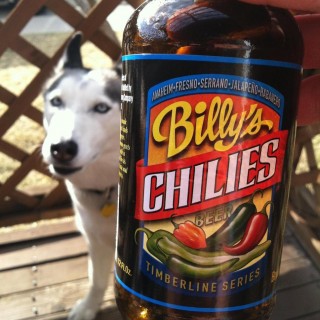 I love Billy's chilies. It is one of my favorite beers! Luckily for me, my bf's bro remembered my love for chile beer and brought me one from New Mexico! It is Rio Grand Pancho Verde chile cerveza! It is quite lovely and was actually the inspiration for this chile beer tour idea. Damn, this stuff is good! In all likelihood, this will be a US heavy tour, generally in the SW I imagine. No reason not to get started on this one right away, I guess.
3) Frambic/Sour Tour
YUM! I am lucky enough to live in Boulder, CO which has quite a beer snob population. Thusly, I was introduced to sour beers! Of course, I had happily consumed lambics before in WI (including some deletable fruit beers from New Glarus), but here I discovered the true sour. I imagine this quest will take me around the US and then to Belgium... home to those old breweries where the cultures literally inhabit the rafters... le sigh. I've had the one on the left side of the picture, Duchess, and she is delicious.